What is the Spleen?
The spleen is an organ that sits under your rib cage on the upper left side of your abdomen. It helps fight infection and filters unneeded material, such as old or damaged blood cells.
Why is Splenectomy Done?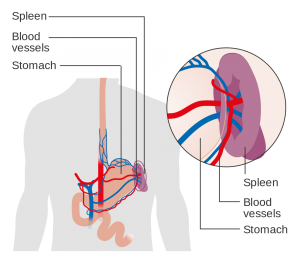 Splenectomy is a surgical procedure to remove your spleen. It is used to treat a wide variety of diseases and conditions. Your doctor may recommend splenectomy if you have one of the following:
Ruptured spleen. If your spleen ruptures due to a severe abdominal injury or because of an enlarged spleen (splenomegaly), the result may be lifethreatening, internal bleeding.
Enlarged spleen. A spleen may be removed to ease the symptoms of an enlarged spleen, which include pain and a feeling of fullness.
Blood disorder. Blood disorders that may be treated with splenectomy include idiopathic thrombocytopenic purpura, polycythemia vera, thalassemia and sickle cell anemia. But splenectomy is typically performed only after other treatments have failed to reduce the symptoms of these disorders.
Cancer. Cancers that may be treated with splenectomy include chronic lymphocytic leukemia, Hodgkin's lymphoma, non-Hodgkin's lymphoma and hairy cell leukemia.
Infection. A severe infection or a large collection of pus surrounded by inflammation (abscess) in your spleen may require spleen removal if it doesn't respond to other treatment.
Cyst or tumor. Noncancerous cysts or tumors inside the spleen may require splenectomy if they become large or are difficult to remove completely.
Your doctor may also recommend to remove the spleen to help diagnose a condition, especially if you have an enlarged spleen and he or she can't determine why.
Can Laparoscopic Splenectomy Performed?
Yes, in hands of experienced laparoscopic surgeons. During laparoscopic splenectomy, the surgeon makes four small incisions in your abdomen. A laparoscope is used to see inside the abdomen and the spleen is removed with special surgical tools that are put in the other three incisions.
Laparoscopic splenectomy isn't appropriate for everyone. A ruptured spleen usually requires open splenectomy. In some cases your surgeon may begin with a laparoscopic approach and find it necessary to make a larger incision because of scar tissue from previous operations or other complications.